Empowering Tomorrow's Leaders
The MJAA Mentorship Program develops business leadership skills by matching Asian professionals with Asian executives from global corporations such as Salesforce, PayPal, Cisco, and more.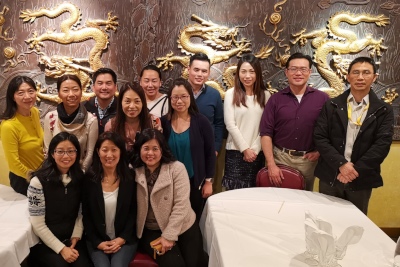 2024 Mentorship Program
Sign up to receive updates on the program schedule, open house sessions, and application process.
Our Mission
Accelerate the Advancement of Emerging Asian American Leaders Through Business Leadership Skills Training, Mentoring, and Networking.
This transformative 6-month program provides training workshops, group mentoring, and networking to develop key skills in leadership, management, and communication.
Enhance Professional Skills
Learn effective communication and management strategies to uplevel your career
Gain New Perspective
Gain exposure to successful Asian business leaders across a wide range of industries
Cultivate Your Network
Forge enduring relationships with like-minded professionals and leaders from a variety of industries
Program Chairs
MJAA Planning Committee
The Program
Take Your Career to the Next Level
The Executive Mentorship program is ideal for early to mid-career Asian professionals, looking to advance their management and leadership skills.
The program focuses on developing skills to help:

Individuals looking to transition from an individual contributor role to their first management role.

Individuals who are first or second level managers looking to accelerate into higher management and leadership roles.
Mentorship
Our Executive Mentors​
We are honored to have these successful executives share their knowledge, wisdom, and experience with us. Their perspectives in framing problems, adopting the proper mindsets, and overcoming challenges related to diversity and inclusion, have provided the foundation on which mentees are able to build their own career success.
2024 – 2025 Mentorship Program
How to apply
Please complete the program application to be considered for the upcoming mentorship cohort. Applications will be reviewed on a rolling basis and we encourage applicants to apply as early as possible
MJAA Mentorship Program
October 2024 – March 2025
The program application will be available Spring 2024.
Sign up to receive updates on the program.