Mentorship Program
"A mentor is someone who sees more talent and ability within you, than you see in yourself, and helps bring it out of you." — Bob Proctor
Program Overview
The MJAA Mentorship Program helps Asian professionals gain the skills and strategies necessary to become the leaders of tomorrow. Mentees are matched to a close-knit mentorship family led by an Asian executive mentor, who has excelled in their chosen field. Mentors provide personalized feedback for each mentee to help them achieve their goals, overcome career challenges, and accelerate their career growth.

The program also provides in-depth training through a series of focused workshops to develop key skills in business leadership, management, and communication.
Who Should Attend?
The MJAA Mentorship program is ideal for early- to mid-career Asian professionals with at least 3 years of experience in U.S. or global companies, looking to advance their management and leadership skills.
The program focuses on developing skills to help:
Mentorship
Our Executive Mentors​
We are honored to have these successful executives share their knowledge, wisdom, and experience with us. Their perspectives in framing problems, adopting the proper mindsets, and overcoming challenges related to diversity and inclusion, have provided the foundation on which mentees are able to build their own career success.
Workshops
The program also provides in-depth training through a series of focused workshops to develop key skills in leadership, management, and communication.
2023 – 2024 Workshop Schedule
Please follow this link to check out the full program schedule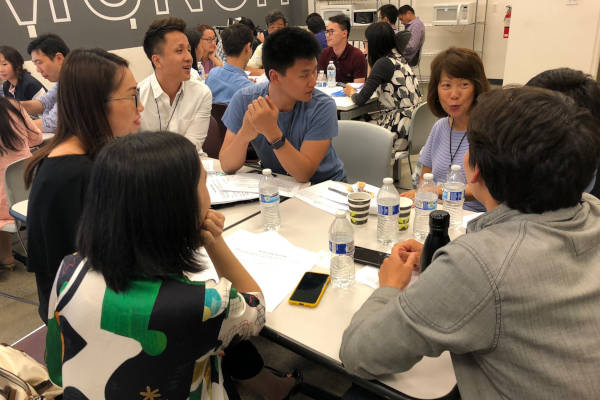 Workshop Highlights
Below are just a few of the sessions you'll attend as part of the program.
Effective Communication and Constructive Feedback
Communicating effectively is a critical skill for leadership growth; and ideally developed as early in your career as possible. In this workshop, you will learn frameworks for effective outbound communication.
Influence LEadership
Influence leadership is a competency that is needed in every stage of your career. Simply put, influence leadership is the ability to impact the behaviors, attitudes, opinions, and choices of others.
How to Tell a Compelling Story That Connects With Your Audience
In this personal storytelling workshop, long-time MJAA mentor and New York Times best-selling author Chris Yeh will explain the principles of storytelling, and how you can apply them to accomplish your professional goals.
2024 – 2025 Mentorship Program
How to apply
Please complete the program application to be considered for the upcoming mentorship cohort. Applications will be reviewed on a rolling basis and we encourage applicants to apply as early as possible
MJAA Mentorship Program
October 2024 – March 2025
The program application will be available Spring 2024.
Sign up to receive updates on the program.